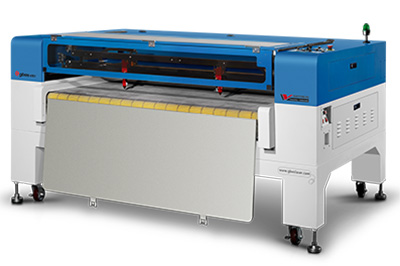 Intelligent clothing accessories laser cutting machine
Brand: Dr. Light Laser
Model: GH1610T-AT
Power: ≤85W CO2 glass tube
Process characteristics:
Product Name: Automatic Feeding Laser Cutting Machine
Model: GH1610T-AT
Product summary:
Since the development of the automatic feeding laser cutting machine technology and process, it has gradually realized completely unattended intelligent operation.Because the biggest feature of the cloth laser cutting machine is labor saving and cost saving, it is deeply affected by the leather cutting industry, cloth cutting industry, and clothing Users in the processing industry are favored, and are currently mainly developed and produced by Dr. Guang Laser.
The automatic feeding laser cutting machine has two powerful functions: the automatic feeding function and the CCD camera positioning cutting function. The multifunctional automatic feeding laser cutting machine is the first choice for the clothing and leather fabric cutting processing industry.

Applicable materials
Non-metal materials such as leather, PU leather, cloth, plexiglass, plastic, rubber, epoxy, acrylic, paper, wool, bamboo products, two-color board, ABC board, PVC board, fiber board and composite materials.
Applicable industry
This type of machine is suitable for clothing, cloth toys, computer embroidery cutting, handbags, shoes, plastics, advertising, packaging, industrial gifts, appliqués, models, prototypes, furniture and many other industries.
Product number:

GH1610T-AT

Processing range:

1600 × 1000

Total power:

≈2015W

Machine size (length × width × height):

2350 × 2970 × 1182

System Requirements:

dows xp/7,AI,PLT,DXF,DST,BMP,JPG,JPGE,PNA,TIF等

win

dows xp / 7, AI, PLT, DXF, DST, BMP, JPG, JPGE, PNA, TIF, etc.

weight:

535kg

Power requirements:

220V / 10A, 50Hz / 60Hz

Environmental requirements:

Temperature 10-30 ℃, humidity (non-condensing) 30-80%