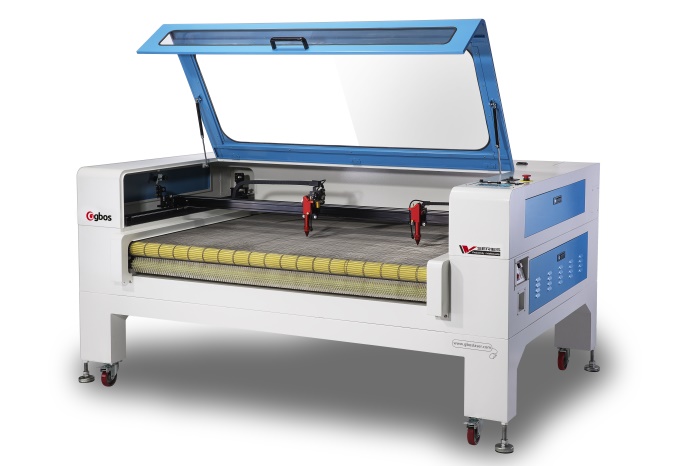 Laser cutting machine
Brand: Dr. Light Laser
Model: GH1610T-AT
Power: ≤85W CO2 glass tube
Process characteristics:
Product name: Laser cutting machine
Model: GH1610T-AT
Product summary:
技术工艺发展至今,已经逐步实现了完全无人值守智能化操作,由于
布料激光切割机
最大的特点是省人工,节成本,所以深受皮革切割行业,布料切割行业,制衣加工行业的用户青睐,目前主要由光博士激光研发生产.
Since the development of the laser cutting machine

technology and process, it has gradually realized completely unattended intelligent operation.Because the biggest feature of the cloth laser cutting machine is labor saving and cost saving, it is deeply affected by the leather cutting industry, cloth cutting industry, and garment processing Users in the industry are favored, and are currently mainly developed and produced by Dr. Guang Laser.
有两个强大的功能:即自动送料功能和CCD摄像定位切割功能,多功能自动送料
激光切割机
是服装、皮革面料切割加工行业的首选。
The laser cutting machine

has two powerful functions: the automatic feeding function and the CCD camera positioning and cutting function. The multifunctional automatic feeding laser cutting machine is the first choice for the clothing and leather fabric cutting processing industry.
Applicable materials
Non-metal materials such as leather, PU leather, cloth, plexiglass, plastic, rubber, epoxy, acrylic, paper, wool, bamboo products, two-color board, ABC board, PVC board, fiber board and composite materials.
Applicable industry
This type of machine is suitable for clothing, cloth toys, computer embroidery cutting, handbags, shoes, plastics, advertising, packaging, industrial gifts, appliqués, models, prototypes, furniture and many other industries.
Technical Specifications:
| | |
| --- | --- |
| Product number: | GH1610T-AT |
| Processing range: | 1600 × 1000 |
| Total power: | ≈2625W |
| Machine size (length × width × height): | 2200 × 1530 × 1120 |
| System Requirements: | windows xp / 7, AI, PLT, DXF, DST, BMP, JPG, JPGE, PNA, TIF, etc. |
| weight: | 350kg |
| Power requirements: | 220V / 16A, 50Hz / 60Hz |
| Environmental requirements: | % Temperature 10-30 ℃, humidity (non-condensing) 30-80 % |